ESSENTIAL VITAMINS FOR COMPLETE PET HEALTH
Proper nutrition is known to help pets live longer and have fewer chronic or life-threatening illnesses, fewer allergies and digestive problems, faster recovery from injuries, better mobility, and better heart health. A healthier pet also means fewer vet bills.
Shop Now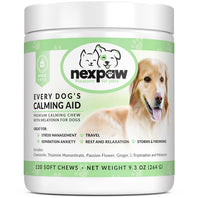 NEXPAW® Every Dog's CALMING AID with Melatonin
Every Dog's Calming Aid helps to support the nervous system in reducing stress and tension plus promotes rest and relaxation.
Recommended to help your dog to cope stress while traveling, and for separation anxiety. Also helpful to calm your dog during storms and fireworks.
Try Today-Risk Free